For the first time on 18/04/10, Riderz organised a GreenSkate that took Paris by storm. Under a beautiful clear blue sky the warmth of the spring sun drew longboarders from around the Paris region to take part in this international event.
There were two sides to the The Paris Greeenskate. Those wanting to test their knowledge of the city and their legs could take part in an orientation race taking in many of Paris's sights.
All together, more than 50 people took part in the race. Here are a few of the early starters:
In order to participate in the race, travel cards and metro tickets had to be given to the organisers for safekeeping. In order to confirm passage as a checkpoint, a photo had to be taken:
The race participants really gave it their all with the fastest completing all the checkpoints in around 2h30m for a total distance of around 35km. Proof that the longboard is a fast, environmentally friendly and sustainable means of urban transportation as well as being good exercise for the body.
Those wanting to spend their Sunday in a more relaxing fashion could just soak in the atmosphere around the start/finish area on the banks of the Seine.
Boards were on offer to test both from Bustin and Blackkross who played a big part in making the day a success with their team and providing a much needed apéro: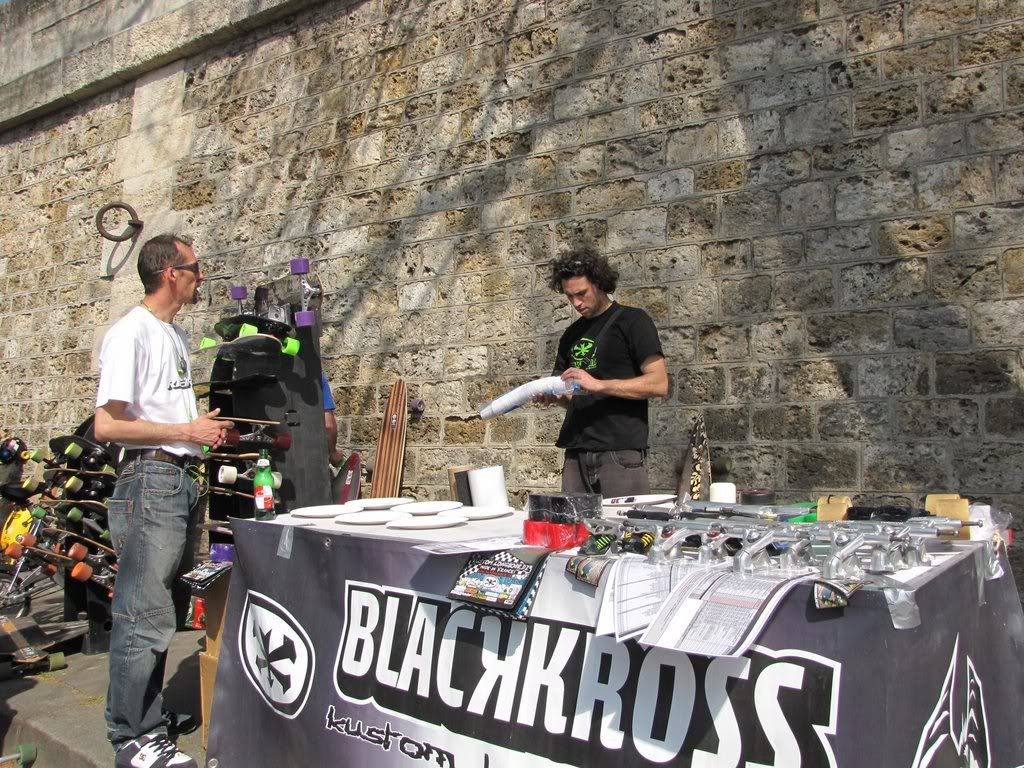 At the end of the day an impromptu slide contest also took place with over 100 spectators:
Overall the event was a huge sucess which brought together more longboarders than I have seen together at any event in France outside of the 2008 Paris Slalom World Cup at the Trocadero.
It is important to note that the event was born from the collaboration of many people who were all brought together by the motivation that Paris as a major capital city should have it's own GreenSkate – we did it and it rocked, proof that the Paris scene longboarding scene can rival any other.
A big thanks to all who made this possible: Riderz, SkateFurther, Longboardskate,Blackkross, Bustin and Hawaiisurf. For all photos from the day, check out the Facebook events page here
If you haven't organised your GreenSkate yet there is still time! Check out the official website http://greenskate.org/ for inspiration and all information.
Thanks to Fantom and Niko for the pictures!
Thanks to Christopher Vallender (christopher.vallender@gmail.com) at http://hereandla.skatefurther.net/ for covering the Paris Green Skate.
Christopher was also a Part of Skaiti, a great UK event Bustin also took part in this spring. Check out his coverage of Skaiti on his skatefurther.net blog.  (http://hereandla.skatefurther.net/2010/04/13/event-report-skaiti/)